Current opportunities
We are currently recruiting for the following roles:
| Role | Location | Employment type |
| --- | --- | --- |
| Sales Executive, aerospace software and services (York, UK) | York, UK | Full-time |
| Software engineer (aerospace, tools, R&D, embedded, real-time, DO-178C) | York, UK | Full-time |
| Multicore analysis and verification software engineer, aerospace, safety-critical | York, UK | Full-time |
| Software Engineering Manager (aerospace, R&D, product management) | York, UK | Full-time |
| Embedded Software Engineer – Senior | Novi, MI, USA | Full-time |
| Account Manager – USA based aerospace sales - software and services | Novi, MI, USA | Full-time |
| Sales Account Manager - UK-based worldwide aerospace software and services | York, UK | Full-time |
Our application process
1. Screening call
During a short, informal video call with you, we decide if there is enough of a match to move forwards.
2. Interview
We meet you face-to-face at our office in York/Novi (or a video call) for a full interview where we discuss the role and ensure that you have the skills needed to fill it.
*For applicants in the US, this is the final part of the interview process.
UK & Europe only
3. Day in the office
If we're serious about offering you a job, we'll invite you to spend a day or half-day working with us. This is both for you to find out about us and for us to find out about you before anyone makes a commitment. All our candidates say that they have a valuable and fantastic experience, no matter what the outcome of the day.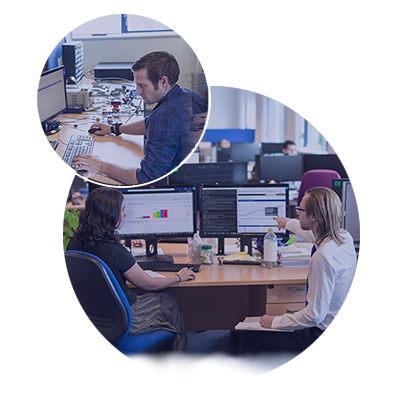 As a growing company, we're always on the lookout for exceptional talent to join our team, particularly those with software, safety, technical aerospace and DO-178B/C related skills. If your perfect match isn't listed in the vacancies above, send us your CV anyway - we'd love to hear from you.
To apply, please send a CV and cover letter to recruitment@rapitasystems.com.
'Please thank everyone on my behalf for the amazing time I had at my Rapita Systems day in the office recruitment experience.' - Fadi, Year in Industry Candidate