Zero-footprint timing analysis for critical software
Collect timing metrics from systems that produce branch traces
By automatically producing software timing metrics from branch traces, RapiTimeZero reduces the effort needed to verify software timing behavior. Along with branch traces produced by the system hardware, RapiTimeZero only needs a disassembly of the application, meaning there's no need for either source code or instrumentation.
The high-water mark execution time results produced by RapiTimeZero help you produce evidence that your code meets it timing deadlines.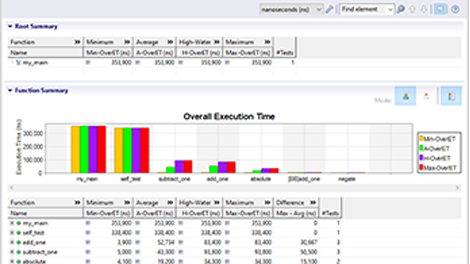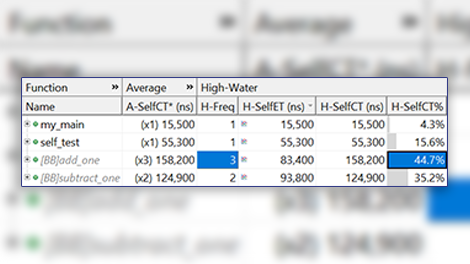 Identify code to optimize for worst-case behavior
Optimizing code to improve average case performance often has little effect, and may even have a negative effect, on worst-case timing behavior.
RapiTimeZero helps you identify the code elements that have the highest contribution to your overall execution time. This helps you focus your optimization efforts on the sections of code for which it's most likely to affect your code's overall behavior.
Debug rare timing events
During program execution, many events occur, and debugging the source of issues like rare timing events can be like searching for a needle in a haystack.
RapiTimeZero helps you debug rare timing events in your code by letting you step through your program execution step by step as you would with a code debugger.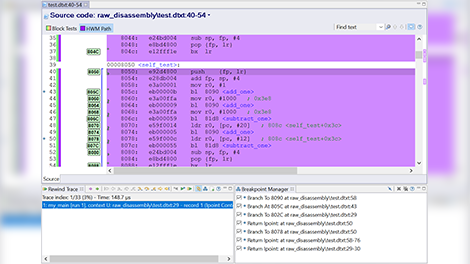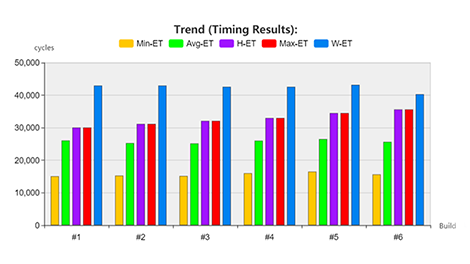 Simplify verification through integration with your continuous test tool
Keep your verification on track by using RapiTimeZero alongside your continuous integration tool. Collect timing results and track your project's progress over time with our integrations for Jenkins and Bamboo.
By analyzing your code with RapiTimeZero on every new build, you can easily identify anomalies in execution time results as they happen.
Analyze timing behavior of libraries without source code
RapiTimeZero lets you analyze the timing behavior of third-party libraries or other pieces of software for which you have no access to the source code.
As RapiTimeZero analyzes a branch trace and a disassembly to produce timing results, it can produce results even when you don't have access to source code.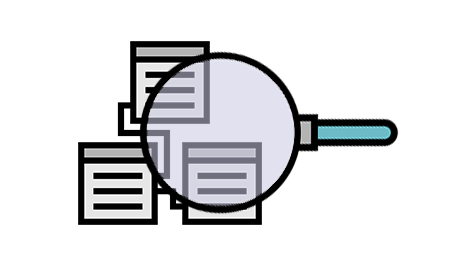 CPUs
Zero-footprint RVS tools require that a branch trace is collected during program execution. Branch traces can be automatically generated by compatible targets or can be collected while the program operates using external devices. To interface with development environment, a Platform Support Package is needed.
Here are some examples of PSPs that we've prepared:
No OS on x86 in QEMU
No OS on ZCU102 with Lauterbach® TRACE32® debugger
FreeRTOS on ARM M3 in QEMU
FreeRTOS on R-Car Salvator-X with PARTNER-Jet2 debugger
FreeRTOS on ZCU102 with Lauterbach TRACE32 debugger
RV850 RTOS on RT850G4M with Lauterbach TRACE32 debugger
eMCOS on R-Car Salvator-X with PARTNER-Jet2 debugger
For more information, and to see if we can add support for your development environment, contact support@rapitasystems.com.
Operating Systems
RapiTimeZero can be used to analyze software run on any host operating system.
Operating System
Windows 7+
Windows Server 2008 R2+
Variety of Linux distributions (including Ubuntu and Red Hat)
For older operating systems, contact us.
Programming languages
Language
Any language that targets machine code
Mixed languages
Compilers
Zero-footprint RVS tools can analyze software built with any compiler from which a disassembly can be produced from the assembled executable.
Frequently asked questions
How large a code base can RVS tools handle?

RVS tools are designed to handle very large code bases. Because of the efficient algorithms used by RVS tools, there is no fundamental limitation to the number of lines of code that RVS can process, and our RVS tools have been used on projects with millions of lines of code.

How are RVS products licensed?

We offer both "Node-locked" and "Floating" licenses, and a license server to support use of our tools in your specific development environment. Floating licenses follow the "Enterprise" model. You can use them across geographical boundaries*, in different projects, with different users, and share them with suppliers working on the same project.

For more information on our licensing models, see our RVS licensing FAQs.

What happens if I encounter an issue while using an RVS tool?

All RVS licenses include access to our dedicated in-house support team, who will work with you to provide a rapid fix to your issue. This is a critical part of our vision. During 2016, we responded to 97% of new support requests within one working day, closed 56% of these within 3 working days and 91% within 20 working days. We also inform our customers of known issues via our website and email. 

How do you support RVS users?

We provide an extensive set of RVS documentation with each of our products, and offer training courses guiding you through the most effective use of RVS tools. All our users can benefit from privileged access to our website, which includes downloads for new product releases. 

What is RapiTime Zero?

RapiTimeZero is an execution time analysis tool that requires no project source code or modification of the development environment being used. To extract execution time information, RapiTimeZero analyzes branch trace information collected from a compatible target or data collection mechanism.

As part of the RVS toolsuite, it forms part of a software verification solution that also includes tools for structural coverage analysis and functional testing.

How does RapiTime Zero work?

RapiTimeZero uses two inputs from which to produce execution time results. The first of these is a branch trace collected while the program under analysis is executed, while the second is a disassembly of the executable. From these, it can understand both the program structure and the events that occurred during the program execution, allowing it to perform execution time analysis and produce execution time results.

Which hardware environments and data collection mechanisms does RapiTime Zero support?

RapiTimeZero extracts information on program execution from a branch trace that must be collected while the program under analysis is executed. This branch trace may be produced by target hardware or collected using a specific data collection mechanism such as a Lauterbach debugger.

For a list of currently supported platforms, see our RapiTimeZero Hardware support.

Which types of timing data does RapiTime Zero calculate?

RapiTimeZero calculates the high and low water mark paths through your program and collects minimum, average and maximum execution times for your code.

Does RapiTime Zero calculate worst-case execution time results?

RapiTimeZero does not currently collect worst-case execution time results, but we are developing a solution to do so. This requires more in-depth analysis of collected branch traces than that required for analysis of other execution time metrics.

For more information, contact support@rapitasystems.com.

If you need to collect worst-case execution time results, you can do so using RapiTime.

 

Can I view my results in the context of my project source code?

If your source code is available, yes. By importing your source code and debug symbols into your RVS project, you can view your results in the context of both your object and source code, and trace between them.

Can I use RapiTime Zero to analyze the timing behavior of multicore architectures?

As with all RVS tools, RapiTimeZero supports data collection on multicore architectures. To analyze the timing behavior of multicore architectures, RapiTimeZero simply needs to know which branches corresponded to which core during program execution. This information can either be inferred by providing an individual branch trace for each core, or a combined trace that includes information on the core on which each branch was taken.

How does RapiTime Zero help me investigate timing behavior?

RapiTimeZero includes a Rewind Trace utility, which lets you step through the events that occurred during program execution like you can with a debugger. This lets you set breakpoints and easily analyze the execution of your program.

Which languages does RapiTime Zero support?

As RapiTimeZero analyzes object code directly to produce results, it supports any language that targets machine code.

How do I learn more about RapiTime Zero?

You can request a trial version of RVS, which includes RapiTimeZero. You can also arrange a demonstration, where a member of our team will work with you to show the benefits that RapiTimeZero can offer you.

Can I use RVS tools with my continuous integration environment?

RVS integrates with continuous integration tools including Jenkins and Bamboo. By integrating RVS with your existing continuous integration tool, you can collect unit test, coverage, and execution time results with every new build, letting you easily identify anomalies in your software's behavior as they happen.

How long has RVS been used for software verification?

The Rapita Verification Suite (RVS) has been used in the critical embedded industry for over 15 years and supported a number of avionics projects globally. Qualification kits for qualified RVS products have supported more than 20 DO-178B and C certification projects up to and including DAL A.

Can statistical modeling approaches be used to provide support for timing measurements?

In general, statistical modeling approaches are not applicable to timing analysis of software as software timing behavior does not fit standard statistical assumptions.

In some cases, software timing behavior may fit standard statistical assumptions, but this is the exception rather than the rule and must be proven before relying on results from statistical modeling.