Code coverage resources for Experts & Beginners
Structural coverage analysis (also referred to as code coverage) is an important component of critical systems development. Many standards/guidelines including DO-178C and ISO 26262 recommend or mandate the use of coverage analysis for measuring completeness of testing. In some situations, however, it is difficult to achieve complete (100%) coverage. What are these situations, and what can we do about them?
Download your free copy of our whitepaper(s) and learn how to overcome common challenges in structural coverage analysis.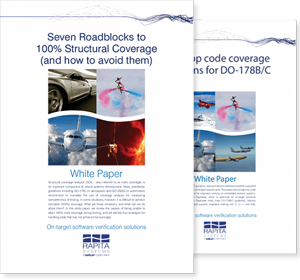 ---
Download your free Code Coverage pack which includes:
White Paper: Seven Roadblocks to 100% Structural Coverage
White Paper: Eight top code coverage questions in embedded avionics systems