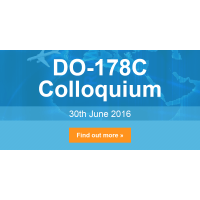 Join a one-day colloquium with leaders in DO-178C certification solutions and learn how to save invaluable time on your project!
30th June 2016, London, UK
Brought to you by:
ConsuNova & Rapita Systems
Rapita Systems, the leading provider of real-time verification solutions for aerospace and automotive embedded systems and ConsuNova, a leading global provider of DO-178C training, certification and compliance solutions, will host a one-day event in London. This colloquium will help organizations understand and prepare for new processes and development activities that are needed to satisfy DO-178C requirements. This event has been designed specifically to address targeted DO-178C topics and so efficiently deliver the best DO-178C industry practices.
A "practical" engineering perspective is the driving force - for those new to DO-178C, it is the best one-day, classroom understanding you will find, and for those more experienced, it delivers a quick hitting review while expanding on new technologies. This event will deliver focused results – a clear understanding of DO-178C, the implications and time-saving industry best practices.
Learning objectives
Evaluate the principles of DO-178C
Identify how DO-178C fits into the avionics development ecosystem
Learn exact DO-178C planning expectations for every design assurance level
Understand requirements decomposition and traceability
Understand and adopt the most desired verification techniques and approaches
20% early bird discount ends 16th June 2016