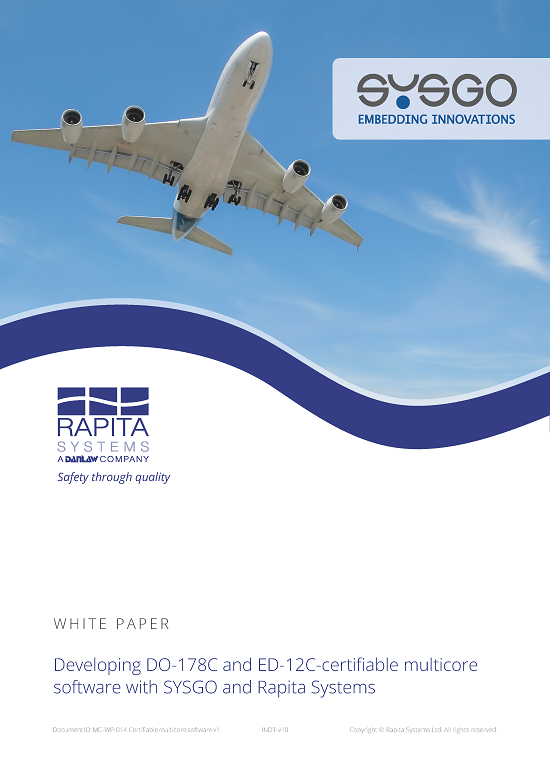 Rapita Systems, a leading verification solutions supplier to the global avionics market, and SYSGO, a leading supplier of embedded software solutions for the world's most demanding safety and security applications, have published a white paper with guidance on how to efficiently meet A(M)C 20-193 objectives for multicore software certified to DO-178C guidelines.
The document discusses the relevant guidance and certification context for developing and verifying multicore software for DO-178C and outlines how interference can be mitigated and software timing behavior analyzed using SYSGO's PikeOS RTOS and Rapita's MACH178 solution.
It demonstrates how to achieve key A(M)C 20-193 activities across the DO-178C life cycle with examples showing how a multicore platform running on an NXP® T2080 QDS processor can be verified.
"We're delighted to continue to work together with SYSGO to offer helpful resources for DO-178C avionics developers. We hope that our new white paper will support individuals and organizations new or otherwise to the additional activities required for the certification of multicore DO-178C software in adherence with A(M)C 20-193 guidance."

Andrea Beer, Marketing Manager, Rapita Systems

"The partnership with Rapita is a long cooperation since many years that helps customers combine SYSGO's PikeOS with Rapita software verification tools to increase evidence of multicore timing behavior and achieve certifiable software in avionics."          
 

Franz Walkembach, VP Marketing Alliances, SYSGO

About SYSGO 
SYSGO is the leading European manufacturer of embedded software solutions such as the real-time operating system and hypervisor PikeOS and the embedded industrial-grade Linux ELinOS. Since 1991, SYSGO has been supporting customers in the Aerospace, Automotive, Railway and IIoT industries in the development of Safety-critical applications. SYSGO was the first company worldwide to achieve the Safety requirement level SIL 4 for its multi-core capable real-time operating system and hypervisor PikeOS. PikeOS version 5.1.3 meets the Common Criteria at the EAL 5+ level for ARMv8, x86_64 and PPC and is also certified according to the strictest Safety standards such as IEC 61508, EN 50128, EN 50657 and ISO 26262, thus enabling application development according to the "Safe & Secure by Design" principle. For industrial embedded systems, SYSGO also offers ELinOS, a Linux distribution with real-time extensions for embedded systems. Furthermore, solutions such as the Railway development platform (SAFe-VX) and the Secure Automotive Connectivity Platform (SACoP) for secure data transfer in, with and between automobiles are available.
SYSGO works closely with its customers throughout the entire product life cycle and supports them in the formal certification of software according to international standards for functional and IT Security. SYSGO is headquartered in Klein-Winternheim near Frankfurt, has subsidiaries in France and the Czech Republic and maintains a worldwide sales network. The company is ISO 9001:2015 and IEC/ISO 27001:2017 certified and part of the European Thales Group.
More information at www.sysgo.com