Started by Dr Zoë Stephenson, head of our SQA team, Rapita's Hackathons are casual, tech-focused events designed to enable the attendees to work on both personal and professional projects.
Taking place on a Saturday, the Hackathon provides a space for collaborative working but in a relaxed setting, with plenty of breaks for socializing, refreshments and games.
So far this summer we have had two Hackathons, both well attended by members from across the company, including the Development, GUI, FAE, SQA and Business Development Teams.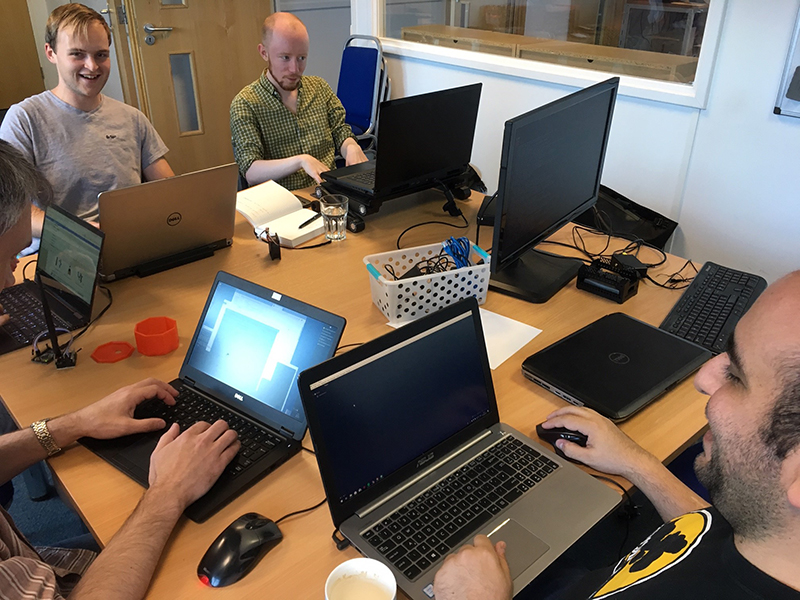 The first Hackathon, which happened in August, had the goal of experimenting with desktop automation options. The Hack team experimented with a number of emulator front ends and identified ways in which they are problematic to evaluate and use - something which we can learn from for our own software. To help support the Dev and SQA team work flows, work was done on defined file locations, formats and architecture for tools and there was also some time to experiment with GUI concepts to refine UX ideas.
The night wasn't a complete success however, with the hackers being reminded how hard you have to work to properly invest in supporting older software, when they tried to install Windows 98, to try and get some old-school Mindstorms working.
The second Hackathon, on Saturday 7th September, was focused around games in a general sense and how they relate to our tech life at Rapita Systems.
Some of the projects undertaken at Hack 2 were connecting an ST keyboard to a GP32, which was powered but had no key-presses (a challenge for the next Hack?) and a HTPC was placed into the case of an old Atari ST.
There was also a project to create PDF reports from Python and setting up network software on a Raspberry Pi. New team member Greg Manning used the Hackathon to fix some intermittent problems in some of his hardware devices and also to get to know his new colleagues better.
Interested in joining the Rapita team?
If you think that you would fit in with our collaborative, friendly culture we are always looking for new people to join our rapidly growing team. Please visit our Careers page to explore our career opportunities and find out more about what it's like to work at Rapita.