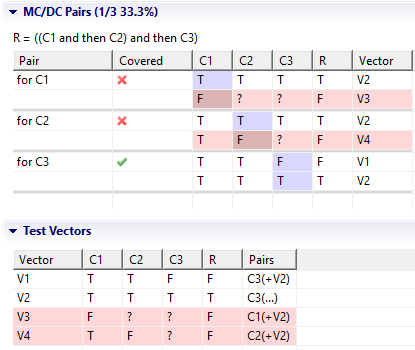 RapiCover's advanced architecture supports MC/DC analysis at the highest levels of rigor with low instrumentation overheads. 
With support for both CAST-10 literal and traditional definitions, RapiCover ensures that your tests can be used to provide verification evidence to meet the most stringent requirements such as those in DO-178B/C Level A projects.
RapiCover can analyze decisions with many conditions efficiently because of its efficient MC/DC library. By default, RapiCover supports MC/DC analysis of decisions with up to 30 conditions, and this is extendable to 1000!
Missing test vectors needed for MC/DC are automatically highlighted. When highlighting missing test vectors, RapiCover applies masking MC/DC (as recommended for DO-178 projects in CAST-6), reducing the overhead of analysis so you can fit more tests on each build and collect your results in fewer builds.